Join us for Supervised Open Gym!
Open Gym Schedule:
Wednesdays 4:00 – 6:00 pm
Saturdays 10:00 am – 12:00 noon
Starting in October, we will add:
Sundays 3:00 – 5:00 pm
Unlimited Supervised Open Gyms are now included FREE with class tuition!  
So in addition to your class times, you now get up to 20+ extra hours to laugh with new friends, grow in new ways, and experience the thrills of the circus arts!
And yes, at least 1 highly trained coach is present at all times!
PLEASE NOTE:  Students who are not enrolled in our weekly classes MUST sign a release form.  You can download the Akrosphere Guest Release Form from our FORMS PAGE, print it out, sign it, and bring it with you, or you may sign the form once you get to our facility  Students under 18 years old must have a parent or legal guardian sign with them.  Non-Akrosphere students will not be allowed to participate in open gym without the appropriate forms. Thank you.
– Open Gym is a flat fee of $15 per session (cash at the door) for students not enrolled in our weekly classes.
– Students may NOT teach other students while at Open Gym, for insurance reasons. Akrosphere reserves the right to ask students attempting to teach others to leave.
– Students who do not train at Akrosphere are welcome to attend Open Gym, but they must have prior circus training.  Non-Akrosphere students with little to no training must be evaluated by the Open Gym coach prior to training.
– Instructors do not teach skills at open gym.  It is a time for students to practice the skills they know to improve their technique so they can progress faster in class.
– Guest Instructors or Choreoraphers are not allowed to instruct or choreograph during open gym.  Please email us at info@akrosphere.com to set up a studio rental for this type of work.
– Akrosphere, it's staff, and it's partners are not liable for injuries that occur during Open Gym.
Akrosphere is a proud member of: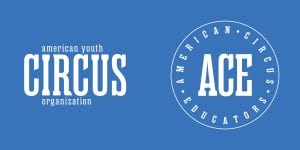 "My daughter found Akrosphere and fell in love with aerial arts." — Nina, Natalie's mom.
Meet us and take a tour!
We currently give tours on Saturdays between 10 am – 12 noon.
Email us to let us know when you want to come visit!